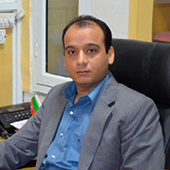 The Philosophy at Shri Mangalam is to challenge the best through instilling the best of the knowledge and experience and to be able to excel at challenges ahead and opportunities that head our way through innovative and strong approach.
This powerful approach to ensure success needs to be backed by resources and facilities that make it a reality. At Shri Mangalam we have taken care of these facilities for knowledge pursuit. From the state-of-art infrastructure and best faculties - both from the corporate and academia, students can feel the difference in the very value system. Thus, the college is committed to deliver a powerful connected learning community that is continuous and re – inventing.
I invite you to come, experience, learn and be part of Shri Mangalam fraternity.
(Harsh Raj Dwivedi)